Simplot is committed to supporting the long-term viability of our farmers. Each year we source more than 450,000 tonnes of potatoes and vegetables from Australian growers which means we play an important role in delivering locally grown produce to Australian consumers. Our Agricultural Services group works collaboratively with our growers to help improve their capabilities and competitiveness.
Agricultural Services comprises farming and harvesting operations and they lead research and development that supports our potato and vegetable growers to ensure our sites have the best available produce for processing today and for generations to come.
Working hand in hand with our growers we are always looking for innovative ways to help maximise crop yields and enhance the sustainability of our growers' operations. The team works alongside farmers to contract volumes, grow, plant and harvest crops to suit the factory production schedules. This includes delivering potatoes, peas, beans, broad beans, carrots, sprouts, broccoli, cauliflower, onions, corn, cabbage and beetroot to the factories at Ulverstone, Devonport, Bathurst and Echuca.
The team also provides harvesting and transport operations for peas, beans, corn and carrots, including all maintenance and service of equipment. They also maintain and operate our potato storage facilities, including all potato handling equipment.
Simplot Farming Operations
In addition to contract volumes with local growers we also have our own farming operations in New South Wales and Tasmania. On our farm in NSW we grow 30% of our total corn volume, similarly 20% of our total potato volume, and 100% of our total broccoli volume is grown on leased Tasmanian land.
We have also recently purchased additional land in the Central West region of New South Wales. The decision to grow our portfolio of high-quality farms in the region will ensure we have secure and reliable access to corn volumes to meet increased production capacity at our Bathurst operation and the ongoing needs of our customers.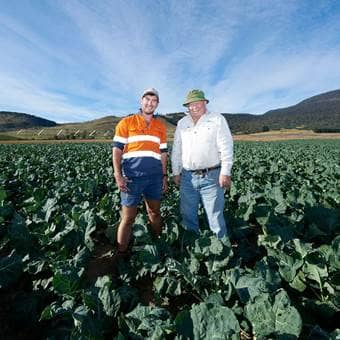 Agricultural Services, Tasmania (Harvesters)
141 Pardoe Road,
Wesley Vale, Tasmania 7307


Agricultural Services, NSW
Simplot Australia Pty Ltd
4 Eglington Road,
Llanarth, NSW. 2795
+61 2 6330 2490
Current Opportunities
We are all about developing and growing careers. Nurturing a supportive and inclusive workplace culture. We are cultivating a future where innovation, inspiration and unlimited potential flourish. If this sounds like you, why don't you come grow with us?