Nutrition, Quality and Food Safety
We acknowledge our corporate responsibility to help foster good health and promote healthier choices through access to safe, nutritious and quality food.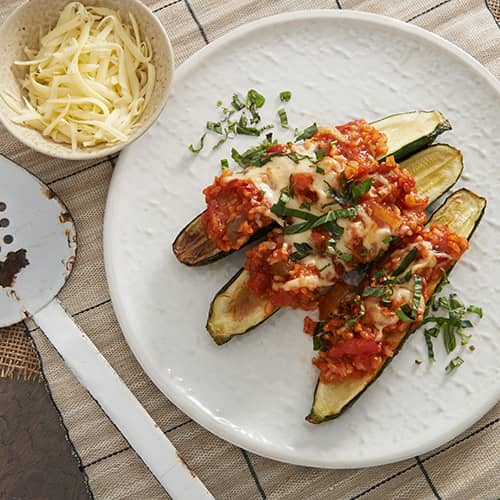 At Simplot Australia we know the vital link between healthy eating habits and the impact eating well has on all aspects of our life. That's why we're focussed on ensuring the food we produce not only tastes great but is nutritious too!

Simplot is home to some of Australia's most loved and trusted brands — including Birds Eye, Edgell, Leggo's and John West. With one of our products in almost every Australian home at any given time, we're mindful that the food we produce can play a big part in supporting health and nutrition.

Simplot Australia's nutrition vision aspires to deliver nourishing foods via our brands by bringing earth's resources to life with healthy and nutritious choices for our consumers.

Our work to contribute to optimum nutrition and good health for all Australians is informed by best practice and Government guidelines and follows the principles of the federal government Australian Dietary Guidelines.
Our Nutrition Goals
Our goal is to be a leading provider of nourishing food and we're regarded as an industry leader in this space. Through the food we produce we aim to help foster good health plus promote healthier food choices through access to safe, affordable and nutritious food. We focus on achieving this goal through our Nourish Program and three key action areas: Improve, Innovate and Inform.
Improve
Working to make our portfolio healthier

We continually look for ways which will improve the nutritional value of our products, which is underpinned by evolving science and development.
Innovate
Creating healthy new products

We use nutrition science to guide product innovation which enhances the nutritional value of our portfolio.
Inform
Inspiring & enabling healthy food choices

We aim to promote and inspire healthy food choices through our communications, providing consumers with easy-to-understand nutrition information that is honest and transparent.
In advancing our nutrition goals we are seeking to improve the overall Health Star Rating of our product portfolio and we follow the principles of the Australian Dietary Guidelines:
Improving our Health Star Rating

The Health Star Rating (HSR) system has been introduced in Australia and New Zealand as a quick and easy way to compare the nutritional profile of packaged foods.

The HSR system is a voluntary front-of-pack labelling scheme developed to provide convenient, relevant and easy to understand nutrition information on food labels for shoppers to make informed food purchases and healthy eating choices. The HSR system was developed by Australian State and Territory governments, food industry, public health and consumer groups. The HSR icon on the front of food packages provides an at-a-glance overall rating of the healthiness of the food product — reflected as a star rating plus a number, rated from half a star to five stars. The rating system is intended for retail products, however we have also applied it to some of our foodservice product lines.

In 2022, the George Institute named Simplot Australia the healthiest food manufacturer in the annual FoodSwitch: State of the Food Supply report. Using a variety of metrics including the Health Star Rating (HSR) nutrient profiling system and the Australian Dietary Guidelines' classification of 'Core' and 'Discretionary' foods, the report explores changes in healthiness of Australia's top 20 food and beverage manufacturers between 2021 and 2022. Download a copy of the George Institute's FoodSwitch – State of the Food Supply Report 2022.
Australian Dietary Guidelines

Simplot Australia follows the principles of the Australian Dietary Guidelines which provide advice about the amount and kinds of foods that we need to eat for health and wellbeing.

The recommendations within the guidelines are based on scientific evidence and were published by the National Health & Medical Research Council (NH&MRC) in 2013. By following the eating patterns recommended within the Guidelines, we can obtain nutrients essential for good health. Also, enjoying a variety of nutritious foods can protect our bodies from chronic disease and may increase quality and length of life.

The key to eating well is to enjoy a variety of nutritious foods from each of the Five Food Groups. The five food groups organise food types by their contribution of nutrients to Australian healthy eating plans. Within each food group, healthy choices are those that are lowest in saturated fats, added sugars and added salt.

At Simplot, we proudly produce core foods in the five food groups from the vegetables; legumes or beans; plus the fish and seafood categories. You can find product health and nutrition information and healthy recipes on our brand websites.
Food Safety and Quality
Ensuring that our products have the same great taste and are made under the safest and highest quality standards is extremely important to our business. Quality is an essential enabler for our success achieved by providing safe, consistent and great products and services that delight our customers and consumers.
Simplot has many rigorous measures and quality checks in place at our plants to ensure that the food we manufacture is safe for consumption and meets our high-quality standards. This is so that the food you enjoy has the same delicious taste every time you eat it.
Across our business, we have a program to inspire our people to deliver our food safety and quality promise — "Quality In Every Bite". The program's vision is to embed a best-in-class, agile and adaptive food safety and quality ecosystem that meet the needs of our customers and consumers. This is underpinned by three key principles; Pride and passion in our food, Market leaders in quality and Delighting our consumers.
We have adopted the HACCP certification system which assures our customers that our manufacturing facilities meet the highest standards of food safety.
Get more information on food safety and other vital elements of food production at our Australian manufacturing sites.
Other Sustainability Priorities